Request a FREE Investment Consultation
Meet Rick Harper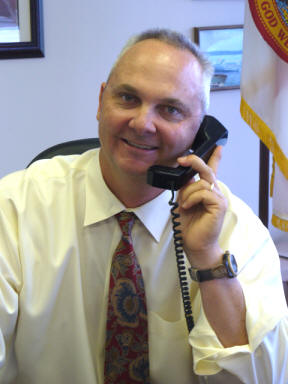 Rick is the Broker and Owner of Harper Realty, Inc. He has been in the real estate industry for nearly 30 years. He built the company from the ground up. In a few short years he made it one of the most successful real estate investment firms in the nation. His has a passion for real estate investing and genuine desire to help others capitalize on real estate. His goal was to offer the best product and service to investors from all over the country who want to invest in emerging markets.
Rick received a Business/Finance degree from California State University Long Beach. He began his real estate career as a mortgage broker and maintained top producer status for several years. There he learned exactly what lenders look for from buyers. Rick's lending experience has proven to be a valuable asset for ensuring the deal goes through. Most of his clients benefit greatly from his expertise in the lending industry.
Long before Rick became a broker, he was a successful real estate investor. He has acquired dozens of properties, yielding a positive cash flow sufficient for the average person to retire. He is willing to share his proven real estate investment strategies with anyone who has the desire to learn and profit from real estate. This first hand experience has given him the insight to wisely guide clients into profitable and safe investments. He puts his money where his mouth is and buys exactly what he sells. "My greatest reward is the trust, respect, and loyalty of my long term clients who have profited from my program".
Rick has a beautiful wife and two precious children. They spend their free time boating or managing on their second business; a working cattle ranch.
Rick has a few titles; Real Estate Broker. Real Estate Investor. Rancher. Farmer and of course Husband & Father. I don't think any of these titles begin to tell the whole story.
He bought his first piece of land 37 years ago at age 16. It is 5 acres next to the forest he still owns today. Since then he has bought well over a hundred properties. Many he still owns. Rick has been able to acquire thousands of acres only because he have learned how to get good income off of the land. Cattle, timber, farming, agriculture, rents and conservation programs to name a few. Of course he invest in improved residential and commercial properties as well but nothing gives him more satisfaction than large tracts of land.
Rick has been involved in tens of thousands of real estate transactions. Harper Realty, Inc. has been a full service investment firm from the beginning. They offer consultation, property locating, assistance with financing and management after closing.
In his own words: "As a result of my personal investment experience and my life's work with other investors I feel comfortable helping my customers buy, sell and manage real estate. In fact, I don't think you will find a more experience and dedicated individual and firm to help you with property".